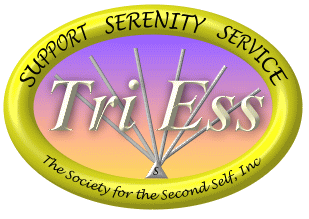 A Brief History of Tri-Ess
By Jane Ellen Fairfax




The story of Tri-Ess began in 1948, when Virginia Prince achieved self-acceptance and began to reach out to others like herself. For the next ten years, she attended psychology courses, networked with helping professionals, and reached out to sisters in the Los Angeles area. Essentially all of them were deeply embedded in cocoons of secrecy, for the fear of exposure in those days had to be seen to be believed. Throughout the Fifties, Virginia corresponded with these frightened sisters. In 1959 she introduced "Transvestia," a comprehensive magazine for crossdressers.

Finally, in 1961, she was able to get 12 crossdressers together in one room, telling each of them to bring two brown bags, one containing edibles and the other, hose and high heel shoes. When she gave the signal, everyone donned their hose and heels simultaneously, so no one had anything on anyone else. That broke the tension, and the following month the room was full of lively discussion on how-to's, and sisters helping other sisters with hair, accessories and positive reinforcement. Thus was born the Hose and Heels Club, the progenitor of Tri-Ess.

Before long Virginia got the insight that crossdressing helped men to investigate and develop their feminine potentials. And so she renamed the "Hose and Heels Club" "FPE" for "Full Personality Expression." Before long there were FPE chapters not only in Los Angeles, but also in Chicago and New York City.

1967 was a watershed year. At that time Virginia published the first book that treated wives of crossdressers. "The Transvestite and His Wife" seems quaint now, but at the time, it was a pioneering work that led to major contributions later. That same year, Virginia took Europe by storm, visiting 37 cities in 8 countries, meeting with 17 support groups, giving 14 interviews for television and 9 for periodicals, and conducting three seminars on crossdressing. Today the FPE groups and their derivatives scattered across northern Europe are a legacy of this whirlwind accomplishment.

While Virginia was about this work, Carol Beecroft formed Mamselle, an "open" group for crossdressers. Becoming convinced of the value of an organization especially for crossdressers, she and Virginia merged Mamselle and FPE in 1976, the combined organization being known as the Society for the Second Self, or Tri-Ess.

In that same centennial year, Carol began publishing a quarterly magazine, the journal known as "The Femme Mirror." In 1978, Carol established the Holiday En Femme as an annual convention for Tri-Ess members. The first meeting, in New Orleans, drew 24 sisters. Among the other programs Carol started were the pen pal program and the textbook correction program. Tri-Ess was on the way to becoming a major contributor in the area of education about crossdressing. For sisters deep in isolation, the membership directory and confidential mail forwarding service were a real lifeline.

Throughout the 1980's Tri-Ess enjoyed a steady growth, and several more chapters emerged. Having taken a journalism course, Carol produced the publications essentially by herself, and answered all correspondence. Virginia served as treasurer, and Donna Martin as membership director.

In 1987 two events radically changed the course of Tri-Ess history. The Donahue Show, which featured members of Chi Chapter of Tri-Ess, fired an outreach shot heard around the country. It precipitated an avalanche of inquiries! Unfortunately, in early 1988 Carol had a serious accident that led to a prolonged convalescence. The need for a team approach was obvious, and a board of directors was established. The publications were farmed out to chapters, where the ladypower was. The trains began to run on time again, and the publications were vastly expanded.

In 1988 Jane Ellen Fairfax articulated the Tri-Ess vision statement as follows:

F - Full personality expression, in a blending of both our masculine and feminine characteristics, in order to be all we can be.
I - Integration of our masculinity and femininity to create a happier, more complete, person as we use our enhanced understanding of ourselves in our daily lives.
B - Balance between masculinity and femininity in our total personalities.
E - Education of Crossdressers toward self-acceptance, education of our families toward understanding, and education of society toward the acceptance of Crossdressers as ordinary people with a special gender gift.
R - Relationship- building in the context of crossdressing.

That statement remains the foundation for all the programs and philosophy of Tri-Ess today.

In the late 80's the leadership of Tri-Ess began to look with empathy upon the plight of genetic women in the transgender community, where they were truly relegated to the back of the bus. Although their presence was tolerated at support groups, they had no real stake there. There were very few programs for them, and in one chapter, they were even referred to as "roommates." A wife named Shirley Kay wrote an article, "A Woman's Place Is In Tri-Ess," which profoundly influenced thinking in the leadership of Tri-Ess. One of the first actions of the new board of directors was to make wives and partners equal members of Tri-Ess with the same rights and responsibilities as those of crossdressers. A firestorm of protest resounded throughout the transgender community, but the board stuck by its guns.

This turned out to be a very wise decision. Because of its family-oriented philosophy and support for the integrity of relationships, genetic women have made huge contributions to Tri-Ess. They have written books, served as officers in both chapters and Tri-Ess itself, founded chapters, turned struggling chapters around, and launched projects from listservs to cruises. In fact, one can usually tell the health of a Tri-Ess chapter by the participation of its genetic women.

The early 90's saw development in many directions. Tri-Ess showed itself to be an integral part of the transgender community by ratifying the Gender Bill of Rights. The Tri-Ess board created the "big sister" program, and a "friends of Tri-Ess" membership category for those who lie outside its primary focus but who want to support the organization. For wives and partners, the quarterly "Sweetheart Connection" newsletter was founded. Chapters began to create special programs, such as newcomers' groups, spouses' and partners' groups, non-crossdressed programs, couples' activities, and "ladies' night out" for those who were comfortable venturing out in public. About this time Tri-Ess achieved status as a 501(c)(3) nonprofit organization.

In 1992 the board of directors established the Spouses' and Partners' International Conference for Education (SPICE). At first the vision for this conference was to focus on wives and partners of crossdressers, but it has since expanded to include a strong focus on couples' issues and renewal of relationships. Some of the most eminent helping professionals have served on the faculty of this conference, which has saved or renewed many relationships.

The work of development is ongoing. Tri-Ess now has its own cyberspace domain. It is expanding its family support department to include programs for parents and children of crossdressers. The chapters are coming together to work as a team with Tri-Ess. A burgeoning outreach program has had a presence at conventions of the National Association of Social Workers, the National Council on Family Relations, the American Assocation of Sex Educators, Counselors and Teachers (AASECT), the Texas Association of Marriage and Family Therapists, and the Psychiatric Nurses Association, as well as numerous college classes around the country. Producers making documentaries are using Tri-Ess as their consultant, as does a major advice columnist.

And so today Tri-Ess stands as an organization known for its "class," an acknowledged leader in supporting crossdressers and their families. We can be truly proud of our Tri-Ess heritage!
[Homepage][Board Of Directors]
[Chapters Directory]

Page Last Updated: 01/26/06