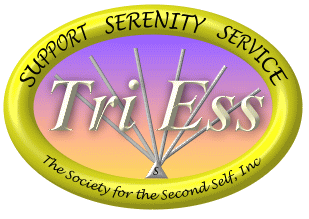 Tri-Ess Suggested Resource Links

Page Updated: March 20, 2018
Included in this page are some links we've collected. These may be freely referenced in your postings to the various Tri-Ess Forums. We hope you enjoy and benefit from all of these websites, but we cannot take responsibility for their content, which is under the control of the individual website owners. If anyone notices something incorrect or objectionable about any of these, please notify the webmistress to initiate a correction or removal of that resource listing.

National & International CD Organizations
CD Support Groups
National & International OPEN Organizations
OPEN Support Groups
Significant Others Support
GLBT Friendly Churches
Young People Support
Self-Help & Information Sources
Publications
Clothing Sources
Breastforms and Shapewear
Jewelry
Wigs
Shoes
Cosmetics
Makeover and Transformation Salons
Potpourri
These are just some of the resource links which can be found on the web. We'll be adding more as we go along. If you have any favorites of your own that you'd like to see here, please Fe-Mail one of the Board members or the webmistress, and they will be happy to review them and consider adding them to this list. We want you to feel like this is your home too ... and what better way than to have resource links that are useful to all your Tri-Ess sisters!


National & International CD Organizations:
(Organizations with a primary focus on heterosexual crossdressing)

TRI-ESS International Homepage (The Society for the Second Self). Tri-Ess is the nation's oldest and largest organization of heterosexual crossdressers and their partners. Its focus is on affirming crossdressers and their partners and in supporting their social needs and their desire to improve themselves in the fine art of crossdressing.
Return to top of page
CD Support Groups:
(Support Groups with a primary focus on heterosexual crossdressing)

Return to top of page
National &International OPEN Organizations:
("Open" Organizations that address the needs of the full spectrum of the Transgender Community)

Return to top of page
OPEN Support Groups:
("Open" Support Groups that address the needs of the full spectrum of the Transgender Community)

Return to top of page
Return to top of page
Return to top of page
Self-Help & Information Resources:

Return to top of page
Return to top of page
Clothing Sources:
(Lingerie, Foundations, Dresses, Outerwear, etc.)

Return to top of page
Breastforms and Shapewear:
(Breastforms, Girdles, Corsets, Waist Cinchers, Hip and Fanny Pads, etc.)

Return to top of page
Jewelry:
(Rings, Bracelets, Pendants, Pins)

Return to top of page
Wigs:
(The "Crowning Glory" of your femme presentation)

Return to top of page
Return to top of page
Return to top of page
Makeover and Transformation Salons:

Return to top of page
Potpourri:
(A Little Of This, And A Little Of That)

Return to top of page




09/09/08
© 1998 - 2004 by The Society for the Second Self, Inc.



E-Mail
: Tri-Ess International